Network Security Through Automation
Gartner recognizes Gluware as an alternative to SolarWinds NCM
As the global impact of network security breaches continue to grow in scale and scope, IT teams struggle to respond. Forward-thinking organizations apply many CISA recommended mitigation actions to address the challenge and use the Gluware® Intelligent Network Automation software solution to quickly onboard critical fixes and prevention techniques.
Gluware's intelligent off-the-shelf automation software delivers the features, simplicity and reliability organizations seek today to manage their complex, multi-vendor networks and enhance their time to value. Gluware's powerful layer of intelligence is designed to bring disparate, multi-vendor systems together so IT can safely, securely and cost-effectively accomplish critical tasks including device inventory, drift detection, network audits, OS upgrades and configuration management.
To prevent network outages and reduce manual errors and security issues, enterprises look to Gluware for an intelligent approach to automating their mission-critical networks.
Gartner recognizes Gluware as an alternative to SolarWinds NCM. See Gartner report.
Using Network Automation to Address Cybersecurity Threats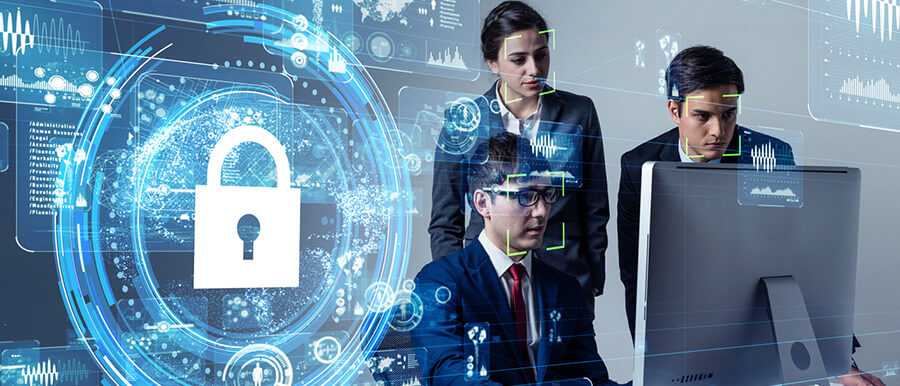 The widespread impact of the SolarWinds (Sunburst and Supernova) security hacks sent network teams scrambling to react, assess the impact, and mitigate any potential damage. Organizations needed to conduct a forensic assessment phase to determine if they were affected then follow the Cybersecurity and Infrastructure Security Agency (CISA) emergency directive 21-01 to take steps to address a possible breach.
How Gluware Helps with Network Security
Automating Device Configurations
Gluware Config Drift & Audit:
Run a daily drift analysis and understand exactly what changes are being made on every network device configuration
Run regular company policy audits to ensure the configurations remain compliant with an organization's network configuration policies (on a per-feature basis)
Gluware Device Manager:
Gain visibility on the operating system version running and the "up time" for an indicator if a device was potentially rebooted
Automating Credential Security Information Reset
Gluware Config Modeling:
Automates network configuration policies
Provides an intent-based, declarative method to intelligently automate feature by feature any network configuration
Define your own policy (intended state)
Implement the changes to the network layer reliably and at scale
Remove old/incorrect policies instead of just adding more and increasing the technical debt
Automating Firmware and Software Validation
Gluware OS Manager:
Automate any upgrades/downgrades/patches which integrates a validation of the checksum. It can automate the check for Cisco device operating systems using Gluware's API integration)
Gluware Device Manager:
Closely monitor the deployed versions of OSes running in your network
Track security vulnerabilities against all versions of network equipment operating systems
Apply patches and workarounds as needed to prevent future cyber-attacks
For more context on the breach check out this blog post from Gluware partner NetCraftsmen: An Executive's Guide to the Attack on FireEye and SolarWinds or download the Executive Brief
TechFieldDay #NFD28: Gluware Network RPA – Automated Security Response and External Integrations
ONUG Fall 2021 – Top Ten Ways Gluware Network Automation Enhances Security
Gluware Demo at TechFieldDay 18: Enabling Security (NAC Switches)