By Mike Haugh, Gluware VP of Product Marketing 
The new Gluware® Intelligent Network Automation 4.1 release delivers a new data-driven network automation application that enhances reporting providing data insights along with additional features in demand from our Global 2000 enterprise IT users. The new release introduces the Data Explorer solution, adding the ability to create custom reports with access to the underlying Gluware databases to surface data across the platform, operational state and configuration state. The 4.1 release also introduces several enhancements for usability and enhanced options for secure login to access Gluware. Gluware 4.1 expands vendor support with Arista, Cisco, HPE/Aruba, Juniper and more helping to consolidate multi-vendor, multi-domain CLI, API and Cloud network management.
Gluware helps enterprise IT automate faster, more reliably and at scale across tens of thousands of devices – without having to become programmers. NetOps teams continue to labor with manual device-by-device CLI-driven procedures and struggle with developing, building and maintaining scripts and playbooks. They are also dealing with the limits of legacy network configuration and change management (NCCM) platforms put in place many years ago that lack the intelligence to deal with the complexity of the modern network to make reliable changes. Users of Gluware have a suite of applications out-of-the-box that provides network discovery, device inventory, config and state query, config drift, config audit, OS management, config management and more. Gluware is powered by its intelligent orchestration engine, which is data-model driven and declarative enabling software control with the ability to ingest, assess and reliability make changes to the network. Gluware does the heavy lifting for you converting network information and configuration into JSON-based infrastructure as code enabling programmatic interaction for CLI, API and cloud networks. Beyond what Gluware delivers out-of-the-box, it is highly customizable and extensible using the Gluware Lab IDE. Gluware is also flexible to co-exist with existing management solutions replacing legacy systems over time. Integration via API is supported through the published REST-based GluAPI, or native integration with apps, custom scripts or workflows within Gluware.
Gluware 4.1 expands on several core capabilities and introduces new functionality including:
Data-Driven Insights
The new Data Explorer solution provides the ability to build user-defined templates for custom reporting of any data within the Gluware databases. This includes defining new custom default reports for each application and also comes with pre-built reports and report viewer with the ability to export in csv, PDF or JSON. Users can generate reports such as detailed hardware inventory, device port utilization, port configuration, L2 and/or L3 configuration, device license, mix reports with drift, audit, OS Manager details and more. Users can generate the reports from Data Explorer, or leverage the report templates created directly from one of the Gluware solutions. The new import/export ability enables enhanced collaboration along with the ability to import examples from the Gluware Knowledge Base. Watch a demo video.
Data Explorer Report Template Editor
 The Gluware Dashboard enables powerful and customizable visualization of the underlying network data. Gluware 4.1 introduces several enhancements including new widgets are available including a 3-tier starburst graph for device inventory, a license summary, IPv4 and standard calculator, activity count, and task list. The dashboard also adds the ability to import and export dashboards for enhanced collaboration.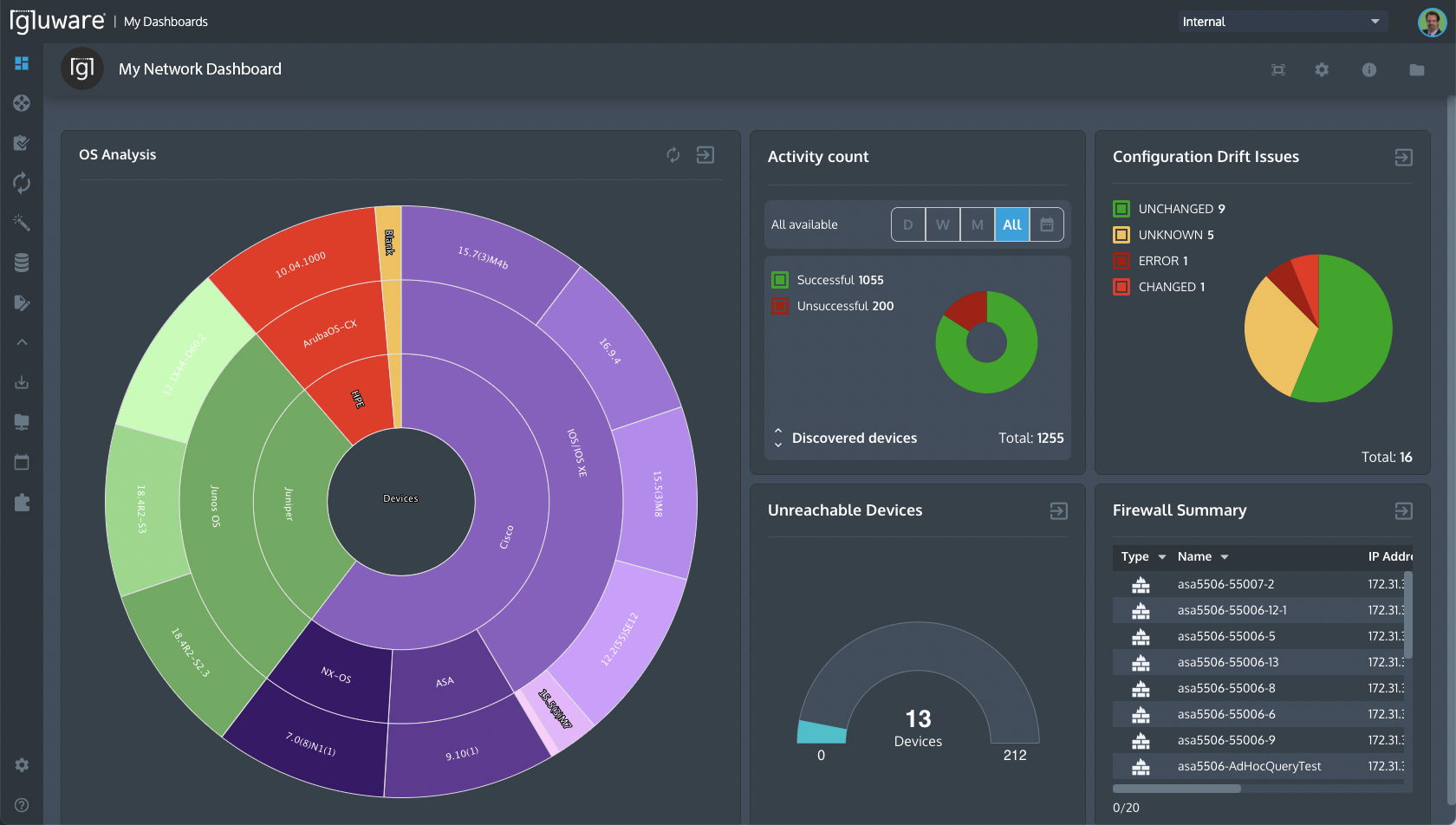 Gluware Dashboard with New Starburst Graph Widget
Additional data-driven features include:
Advanced Device Discovery –

Device discovery has been expanded to cover additional state and resource information including port state, speed, duplex, VLAN ID, IP address, and more. The discovered information is available in Data Explorer.

Expanded EoX information

– The integration with the Cisco® Support API to pull End-of-Life/End-of-Sale has been expanded to capture additional information including component-level details. The EoX information is available in the Device Manager as well as the Data Explorer.
Enhanced Usability and Security
The new left-hand navigation bar provides simplified and streamlined Gluware UI navigation with direct access to specific solution areas. Watch a demo video.
Additional usability and security features include:
Device Access Status

– New visual indicator in the device explorer to show the latest status of reachability along with any reason for failure. This is visible in the Device Manager, Config Drift & Audit and OS Manager applications.

Enhance Security for Accessing Gluware

– New options for SAML, use of an external application for two-factor authentication (2FA), and PKCE. These additional security features provide additional options for securing access into the Gluware software.

Gluware Pro Envoy Proxy

– The Gluware Secure Gateway now tunnels connections for device connectivity, file services, syslog, and moreover a common SSL tunnel to the AWS instance used for the Gluware Pro cloud-hosted SaaS offering.
Swagger 2.0/OpenAPI Specification (OAS) – GluAPI adds support to simplify onboarding of the REST API for use in external integrations. This capability speeds the process for external systems that are capable of ingesting Swagger/OAS to onboard the Gluware API REST calls for programmatic interaction.
Expanded Multi-Vendor/Multi-Domain Support
Gluware continues to expand support for automating across traditional (CLI), modern (API) and public cloud domains (via Terraform/API). New and enhanced vendor support is added via packages to the platform (not requiring a major release). Since the Gluware 4.0 release, additions and enhancements include:
Device Manager Support

– APC UPS Network Management Card, Cisco UCS

Config Modeling Vendor Packages

– Enhanced or added support for Juniper MX and QFX series, Arista EOS, HPE ArubaOS-CX and HPE ProVision, Cisco IOS XE Wireless Controller, AireOS Wireless Controller (beta), and Cisco IOS XE SD-WAN

OS Manager

– HPE ArubaOS-Switch, Cisco AireOS, F5 Virtual Edition 

Config Modeling API Packages

– Cisco Meraki, Cisco SD-WAN

Gluware Lab

– Adds Infoblox REST Development Kit (RDK)
For more information, Watch the Gluware Webinar on the 4.1 release, live on 8/31 — available on-demand after that. To learn more from the Gluware team – request a demo.