Network Automation
Modernize To Model-Driven Intelligent Network Automation With Gluware
Smarter. Faster. Simpler.
As large, modern networks increase in complexity, the corresponding maintenance and management of those networks means organizations must shift to network automation on a large scale. Insightful, intent-based software is critical to ensure that automating complex networks is accomplished with security, agility and care.
As your organization starts the journey toward software-driven network management—from solutions for basic network discovery and compliance to error-free policy management—Gluware is there every step of the way to help you:
Rapidly onboard your configs
Implement multi-vendor networking
Leverage your existing CLIs
Automate existing brownfield devices
Supplement/supplant home-grown scripts
Eliminate manual errors
Minimize downtime
Implement and enforce policy standards
Get zero-touch provisioning
Inventory and discover multi-vendor network devices
Monitor and detect any configuration drift
Accelerate network audits
Upgrade and patch OS at scale
Define and enforce network-wide configuration policy
Reduce task time from months to minutes
Eliminate legacy tools including NCCM costs
Network Automation Applications
Gluware's Modern Intent-Based Approach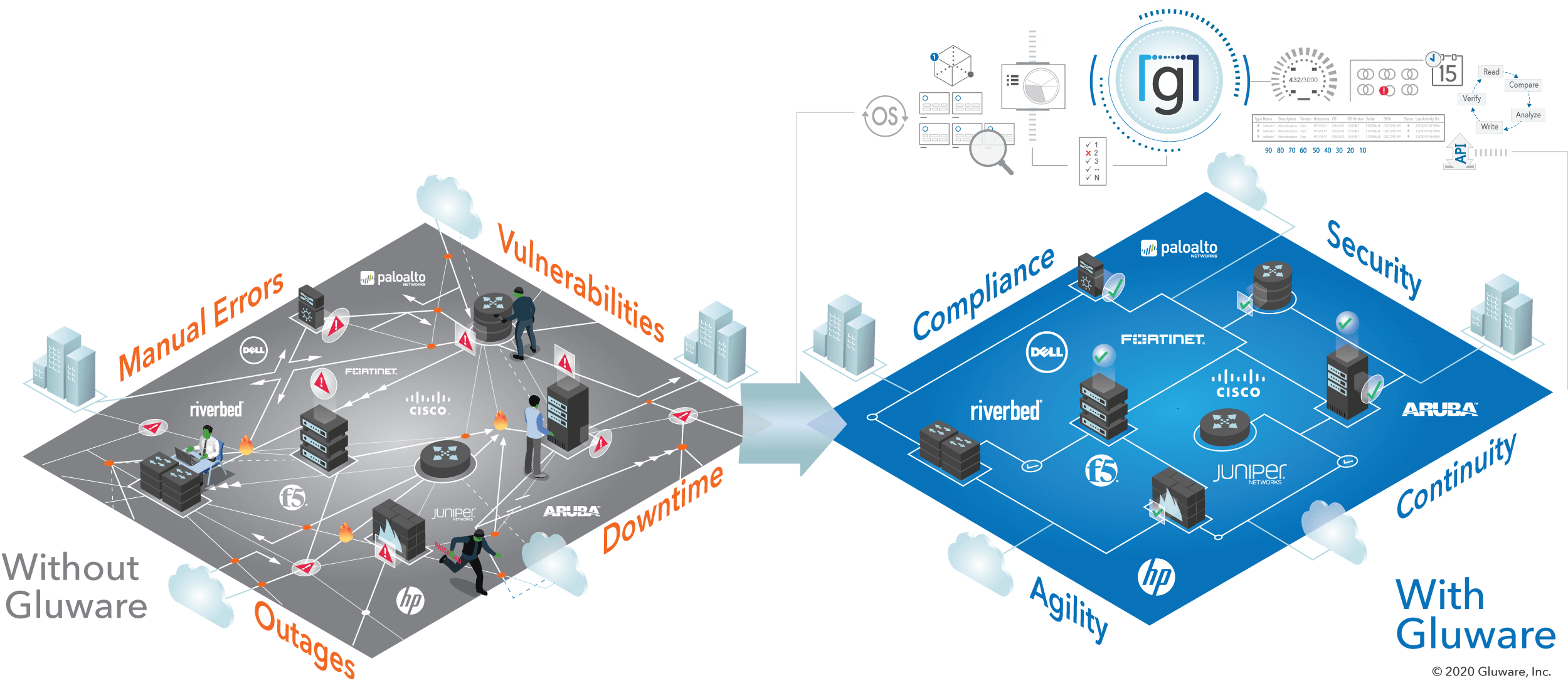 Getting Started With Gluware
See Our Top 10 Network Automation Use Cases
Traditional Approaches to Network Automation
Gluware customers look to our Intelligent Network Automation approach to help them supplement or supplant traditional approaches like these:
Lacks business/lifecycle process
Not scalable—often for one-time use only
Varies by vendor and platform: no network-wide changes
Error-prone "push and pray" deployments, limited logs and validation
Disparate tools with different focuses
Pre-built limited solutions or unintelligent template-based
Demands high cost for maintenance
Incomplete automation solution
Programming skills required
Ongoing effort to develop, test and update scripts
High hidden cost to implement GUI, DB, versioning, admin and more
Limited set of users, not scalable within organization
Traditional Approaches to Network Automation
Gluware customers look to our Intelligent Network Automation approach to help them supplement or supplant traditional approaches like these:
Network Automation Platform Checklist
| | |
| --- | --- |
| Feature | Gluware |
| Support for legacy network configuration and change management (NCCM) | |
| Multi-domain – supporting automating the LAN, WAN, Data Center and more | |
| Multi-user with LDAP integration and rights/roles management | |
| Multi-tenant enabling management of many administratively separate networks | |
| Ability to extend support to new, emerging virtual infrastructures leveraging SDN and Network Functions Virtualization (NFV) | |
| A platform that can help the IT organization adhere to corporate and government compliance policies, auditing standards and regulations | |
| Ability to perform secure and reliable changes to the network, across multi-vendor network devices | |
| Identifiable return on investment (ROI) to ensure alignment with the business needs | |
| Ability to implement automation quickly, with limited training and onboarding time | |
| An extensible platform which can grow and change with evolving business needs | |
More than half of the Gartner report respondents had no automated network changes performed today and more than a third had only 1% to 25% of network changes automated. Enterprises are feeling the impact as they move toward global digitization and to the cloud. With networks comprised of legacy devices deployed over decades, many enterprises are hampered with "technical debt". Public clouds and cloud services provide automation tools to spin up and change services quickly, but the legacy network infrastructure they depend on lacks the needed level of comprehensive management software.
Network automation has been identified as a top priority to improve responsiveness to business needs while reducing network errors, outages and security risks.
"Network automation tools enable network operations staff to gain process and configuration agility, while ensuring compliance."
Gartner, Market Guide for Network Automation